Mum raises awareness for Ivy Pittams, a baby born without a bum
23 Aug, 2018 10:00am
5 minutes to read
From the outside 8-month-old Ivy Pittams is a chatty, feisty and healthy baby - but she has spent most of her in and out of the hospital because she was born without a bottom.
"This brave little lady came out absolutely perfect except for one vital component: a bum," says her mum Colleen Parker, 23.
"She has a series of congenital conditions, all linked to an unusual form of spina bifida, which has left her with anal atresia, sacral aplasia, pelvic dysplasia, spinal stenosis and other secondary conditions."
Basically, Ivy has no bottom, no tailbone and everything from the hips down was a bit different.
Advertisement

"A lot of the stuff around that area has not formed fully."
Speaking from her daughter's bedside at Wellington Children's Hospital, Parker said she and partner Simon Pittams, 32, a hotel conference porter, had done their best to budget for medical expenses while looking after their two other children on one income.
"Unfortunately things have not gone to plan for her, and we are having to stay here for much longer than expected."
Wellington Hospital paediatric surgeon Dr Toni-Maree Wilson said Ivy's condition was "extremely rare" as not only was her bum in the wrong place but she also didn't have a closed spinal cord.
"What we have done is bring the bowel out to the skin so she can poo, then we've basically made her a bum. So the plumbing is back to normal but it was hard to say how well that will work."
After three surgeries, plus two other hospital stays for post-operation complications, Parker was able to take her baby home today but there was still a lot of unknown.
Wilson said at the moment everything seemed stable.
"There's no plan at this point to do anything about her spina bifida - it's not liable to get infected but she may need something to deal with that when she's older.
"She can pee normally and her bowels have started to work but we won't know until she is three or four - when she starts to go through toilet training - what her eventual bowel function is going to be like," Wilson said.
She said on a scale from mild to life-threatening, Ivy's condition had become moderate and she will continue to be monitored.
"She is likely to need further surgery for her spine as she grows," Wilson said.
Despite all of her hardships, Ivy has remained positive and a relatively normal baby, Parker said.
"She's definitely still a happy wee girl - there are lots of smiles, even when she has a 'owie'.
"She is very stubborn and resilient."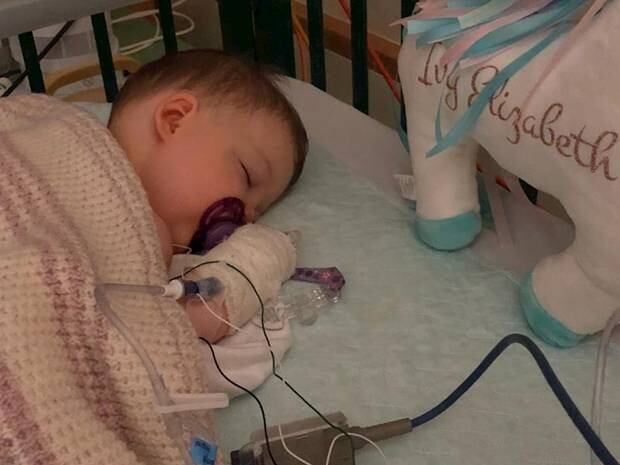 A
Givealittle
page was started to help them cover living expenses while at their Masterton home and at the hospital. The page has already raised more than $1000.
Her partner would soon have to return to work, meaning Parker, who was required to be by her daughter's side at all times, was stretched thin.
"Neither of us drive, I have my learner's [licence], we are catching the train. We want to give them [family] a bit."
Any donations they receive will go towards living expenses for back home where her two stepsons were being taken care of, as well as their expenses while staying in hospital and travel to and from each location.
"It becomes expensive after a while. A friend has been looking after our boys."
Parker also wanted to give some money back to the friends and family that had supported them through the countless hospital visits and commutes to and from the hospital.
"What we have left over in the end, will be given to Wellington Children's Hospital so the wonderful staff here can continue to provide an amazing environment for sick children."
"The staff here have been so helpful and supportive. It has been awesome and made things a lot easier."
The main reason for going public, however, was to raise awareness of spina bifida and sacral aplasia, lack of tailbone, which was more common than people might think, Parker said.
"There is an opening at the base of the spinal column where the nerves are exposed.
"At the moment her leg function is fine. As the spinal nerves stretch with the growth we don't know if her cord is tethered."
They wouldn't know until Ivy was older if her ability to walk would be affected.
New Zealand Organisation for Rare Diseases [NZORD] chief executive Dr Collette Bromhead said Ivy's condition was also known as caudal regression syndrome - a form of spina bifida - and was as rare as one in every 100,000 births.
"It's an extremely rare and it's sporadic so there's no known genetic cause, which means it arises spontaneously.
"That said, there are some known genetic associations from prior research but no one has actually hit the nail on the head as to what's causing it," Bromhead said.
It was a condition that could range from being mild to life-threatening.
Bromhead said she couldn't comment on Ivy's individual case but in a general sense it was likely other neurological consequences would be affected.
"Things like bladder and bowel control could be affected but might not become apparent until the child is older."
Bromhead said the condition had multi-factorial issues - including abnormalities in the kidney, lungs and heart - which meant the patient required a team of doctors specialising in different areas.
"It's extremely unfortunate and likely she will have a medically intensively early part of her life while they get these things under control.
"It's not a matter of getting medicine to fix it, it's more getting the best possible team in."
Spina bifida is the second most common birth defect worldwide, according to the Spina Bifida Association.
The condition affects one in every 1000 pregnancies in New Zealand.